Spencer C. 4/8/2015
My girlfriend and I just purchased an '09 Volkswagen Jetta and couldn't be more satisfied with the car and the sales team. If we could rate them on a scale of 1-10, I'd give them a 20 because they went above and beyond our expectations! A big thank you to Jon, Dave and Paul. Frankman Motors has definitely earned our business in the future!

Lafawnduh 4/7/2015
Purchased a 2015 Escape. Everyone at Carbase Motors is very friendly. The process of buying a vehicle seemed really quick also. Bob was very knowledgeable about the vehicle and Rhonda took time to explain what my rate would be and different plans they had for extended warrenty Life insurance and Gap.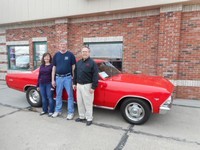 Jill 4/1/2015
Pre-sale was very good, I did have a very good buying experience, Mr Slick & Tammy took time and showed me with all the option I was looking for. Honestly when I entered showroom my plan was to buy a certified used car., later ended up buying new car with almost double the budget had in my mind, sale should be credited for the salesmanship and choices I was offered.

Aaron 4/1/2015
I dealt with Bob Slick (Cowboy) and wanted to express that he was amazing. I had never bought a car new before. The thought of negotiating with professional negotiators (salesmen/women) is intimidating. If you look for tips online, a lot of people compare it to getting a root canal. The pages are full of awful negotiating ploys and underhanded tactics that give the bravest man/woman pause before stepping in a dealership. That was my frame of mind when I stepped in. I have never been happier to be wrong. Bob was nice and a pleasure to deal with. He did make counter offers but that is expected in a negotiation. I needed time to check with my wife and there were times when I did not want to provide documentation until I have irrevocably decided. He accommodated all of that. He is an asset to you company and he has single handedly made Carbase Motors my first port of call the next time I need a car.